Chicken Broth Part I is
HERE
At this point we have already cooked the chicken with vegetables and seasonings.  The chicken has been removed and the meat stripped from the bones, and the bones and skin put back into the pot.  Put the pot back onto the stove and slowly simmer for 48 to 72 hours, adding water when needed.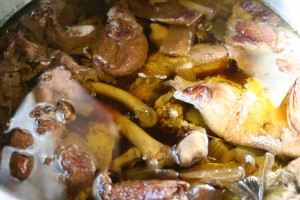 After 48 to 72 hours the bones and skin will have reduced considerably.  I empty the pot, through a fine strainer, into a large pitcher.  I like to press out any liquid remaining in the chicken parts.  The bones are soft and will crush when you put pressure on them, this is good thing, when the bones go soft you know that the minerals have leached out of them and into your broth, making the broth packed full of nutrients.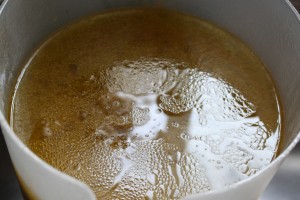 Once you have drained the liquid out of the chicken mush and strained the water, place the pitcher into the refrigerator to cool completely.  This allowes the fat to rise to the top and solidify so it is easier to remove.  We do want some fat in our broth, but not as much as is produced. 
After a few hours you can see the fat as risen and solidified.  Also the broth itself will thicken (depending on the chicken) sometimes the broth will be so solid you can cut it, other times the broth just seems a little thicker.  The is gelatin that has come from the bones gelatin is very good for you, a very digestible form of protein.  Skim all the fat off the top.  If the fat is cold it is very easy to skim, it just breaks off in big lumps.  This fat can be saved for cooking if you would like, potatoes are really good fried in this fat.
Then pour the broth in to individual containers, in amounts that suit you.  I like to use small, plastic, containers that hold two cups of broth.  Then I add a little lup of fat into each container.  Don't be afraid of good fats, we need them to adsorb certain vitamins.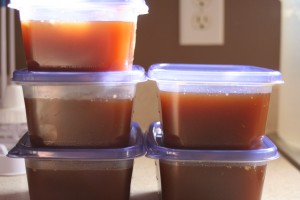 The broth is then stored in the freezer.
Isn't it such a beautiful dark brown color, this broth is rich, full of flavor and packed full of nutrients.  It can be added to any recipe that calls for broth, bouillon cubes (which are just chemicals and not good for you) or just water for an added punch of flavor.  Try cooking rice in broth for a wonderful flavor and added nutritional value.  Broth is also good for the sick, whose bodies need the nourishment, but also need something easy to digest.