I have played and played around with sour dough and wild yeast off and on the last few years, and mostly I have found it tedious with unappetizing results.  Regardless of the brick-like bread I had produced in the past, I  still wanted to learn how to make a good sour dough bread and other items from wild yeast.  Baking with wild yeast means that you gather the natural yeast from the environment, you don't use any commercial leavening products, and you keep it alive in your "sour dough start", just like they use to do it in the olden days.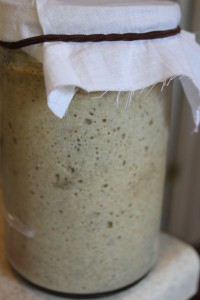 Last time I was at Costco I saw the book "The Art of Baking With Natural Yeast" by Caleb Warnock and Melissa Richardson and I had to buy it.
Monday I prepared my start.  I combined one cup freshly ground wheat flour and one cup water, put it in a jar and covered with a cloth.  By that evening it was already starting to bubble with yeast and by Wednesday night it had doubled and was ready to use.  This very morning I made sour dough banana pancakes from the recipe book.  I was a little worried about how the kids would react, they weren't fluffy pancakes, like those that use baking powder, and they have a sour taste (very mild) however, the family loved them!  I am so excited to try some other recipes, including bread.